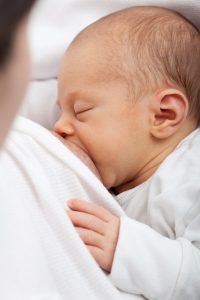 New mothers have so much to learn. You love your baby and want to take care of them, but all the information out there can be confusing. Many mothers want to breastfeed their babies to give them good nutrition and bond with them. These breastfeeding tips and tricks for first-time mothers will help you and your baby stay happy and healthy.
1. Begin Breastfeeding as Soon as Possible
If you can, try to breastfeed your baby right after birth. During the first hour after birth, babies are more interested in breastfeeding than usual. Cuddle your baby on your chest until they finish feeding. You create colostrum, the first kind of breast milk, at the beginning of your baby's life. Breastfeeding early lets your baby get more of this nutritious milk. The skin-to-skin touch will also reduce your and your baby's stress after delivery.
2. Let Your Baby Tell You When They're Hungry
Babies show their hunger in many ways besides crying. They have a rooting reflex, where they turn towards touch and open their mouths when hungry. Your baby may also start sucking and licking their lips. Every baby has unique feeding times, and they will show these signs when they want to feed. Some babies want to feed a little bit many times a day, while other babies like a few long feedings. As your baby grows, they will have growth spurts where they want to feed more often.
3. Make Sure Your Little One Latches the Right Way
Correct latching makes breastfeeding less painful and helps your baby get more nutrition. Latching is the way that your baby sucks on your breast. When your baby breastfeeds, they should not hurt your nipple. They should suck on both your nipple and the areola, the darker skin around your nipple. Bring your baby to your full breast, and gently move their lips if they need help.
4. Wait for Pacifier Time
Your baby has a natural need for sucking that encourages them to breastfeed. A pacifier helps them suck often and feel happy. However, if they get in the habit of sucking on a pacifier instead of your breast, they might not want to breastfeed. Let them build a habit of breastfeeding for a few weeks before giving them a pacifier.
5. Take Care of Yourself
Your health is as important as your baby's health. Remember to get enough sleep and to eat a healthy diet. Ask for help with chores and other tasks when you first start taking care of your little one. If your nipples get dry and cracked, try rubbing a few drops of breast milk on them after a feeding. You can also use a cream that has lanolin in it to prevent cracking.
Let Us Help You Have a Healthy Start
At Hamilton Health Center, we want to help all first-time mothers and babies stay healthy. We give care to everyone, even if you have a low income or don't speak English as your first language. Schedule an appointment with us by calling (717) 232-9971 today.
More Resources for Women