Hamilton Dental Clinic
Hamilton Health Center provides affordable dental care in Harrisburg, PA to every patient, regardless of their ability to pay. We provide a dental home for high-quality preventive and restorative dental care. We also provide low-cost community dental care in the Harrisburg, PA region. We accept most forms of health insurance (United, Concordia, Delta Dental, etc.) and Medicaid. If you need assistance with forms or enrolling for insurance programs, we can help with that too. Schedule an appointment at our bilingual dentist's office and get the compassionate care you deserve today.
Call To Schedule – (717) 232-9971
Community Dental Care Families Count On
Hamilton Health's Dental Clinic has an exceptional and friendly staff to take care of any dental service you need. Not only are our family dental services outstanding but we also offer affordable dental pricing as well.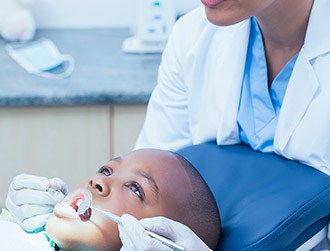 Our Community Care Dental Services in Harrisburg Include:
Preventive Dentistry
Schedule an appointment at our Harrisburg, PA, dental office for a cleaning and exam. We will take X-rays and apply a treatment or a sealant that protects teeth.
Restorative Care
The dentist can fill cavities, perform basic tooth extractions and fit you with affordable dentures. If you need oral surgery, Hamilton Health Center can also help.
Children's Dentist
When you need dental services for your children, the dentist at Hamilton Health Center can provide quality care. Your children can receive low-cost dental care to ensure their teeth grow in properly and stay healthy. Access to our patient and compassionate dentists will keep your children smiling with beautiful teeth.
Emergency Dentistry
If you have a lost filling or you have a broken or knocked-out tooth, call Hamilton Health Center for emergency services.
Dental Care for Individuals With Physical Disabilities
Patients with physical disabilities can comfortably get the dental care they need at one of our community health centers.
Routine Exams and Cleanings
The dentists at Hamilton Health Center provide regular exams and cleanings to ensure everyone has access to proper oral hygiene. During your appointment, your dentist confirms that your teeth and gums are healthy, addresses any care you may need and recommends habits and techniques to help you keep your teeth clean.
Fluoride Treatments
When your teeth need strengthening and protection from plaque, receiving fluoride treatments is one of the best ways to be proactive. Fluoride treatments can strengthen your enamel and protect your teeth from plaque damage. They can also help reverse early and minor tooth decay. Receive fluoride treatments from the Hamilton Health Center's dental clinic in Harrisburg.
Dental X-Rays
Dental X-rays provide vital information about your teeth that your dentist needs to know to complete a proper examination. The X-rays can help your dentist find cavities, check the health of the bones surrounding each tooth and gain other details about your needs. If you have an aching tooth, an X-ray can identify an abscess and help your dentist address a spreading infection.
Dentures
If you need dentures, the dentists at Hamilton Health Center can provide them. Whether you need partial dentures or need a complete set, our dentists will ensure you receive the dentures you need to regain a solid bite. You deserve to enjoy delicious meals without pain or difficulty, and we can help you achieve that goal.
Pediatric Dentistry
The dentist at Hamilton Health Center provides complete kids dental care in Harrisburg, PA, including cleanings, exams, X-rays, fillings and sealants. We offer custom pediatric dental services in Harrisburg, PA, to help families get their children low-cost dental care.
Sealants
When you want to take preventive action for your oral health, consider getting sealants. The sealants are thin coatings that go on the chewing surfaces of back teeth to help prevent cavities and decay. The thin layers act as protective shields that block out germs and food. Our dental clinic in Harrisburg provides sealants for patients to keep their teeth healthy.
Fillings
Whether you need a filling replacement or have a new cavity that requires a filling, the dental health services at Hamilton Health Center can help. Our dentists can treat small holes or cavities in your teeth with fillings to restore their function and integrity.
Space Maintainers
If your child has started losing baby teeth, it is vital to ensure their remaining teeth leave enough space for their permanent teeth to grow in correctly. Your child's mouth structure may benefit from having space maintainers if they lose a baby tooth before the permanent tooth develops or erupts.
Root Canals
A root canal may be the most appropriate treatment for a damaged or diseased tooth. Our dental services in Harrisburg, Pennsylvania, include root canals to treat decay or infection and help patients find relief from their tooth pain.
Routine Extractions
Whether you have a broken tooth or your child needs more room in their mouth for their permanent teeth, the dentists at Hamilton Health Center can perform extractions. We have experience performing routine extractions for people of all ages to resolve various issues.
Harrisburg Dental Clinic Hours
Last updated:  July 19, 2023
Mondays & Wednesdays: 8am – 6pm
Tuesdays, Thursdays, and Fridays: 8am – 5pm
Closed Saturdays and Sundays