Prenatal care is essential to prepare for the birth of your child. There is a lot to keep track of during pregnancy to protect mothers and babies, which can confuse new parents. Prenatal care helps simplify the process by providing you with guidance throughout the entirety of your pregnancy.
Below, you'll learn more about the importance of prenatal care, what to expect from your visits and prenatal advice to help improve the health of yourself and your baby throughout your pregnancy.
What Is Prenatal Care?
Prenatal care refers to getting routine checkups from nurses, doctors or midwives throughout pregnancy. Prenatal care is important for your baby's health and your well-being as a mother. Care can start during pre-pregnancy planning, but if this isn't possible, it's best to start prenatal care as soon as you know you're pregnant.
During your prenatal visits, your doctor, nurse or midwife will observe your baby's development while focusing on improving your health and well-being, which influences your baby's health. You should speak with your doctor about prenatal care as soon as you become pregnant.
Prenatal Care vs. Perinatal Care
Prenatal care refers to the regular checkups women undergo while pregnant. Perinatal care refers to the health care women receive during and directly after the birth of their child. Many women who receive perinatal care have high-risk pregnancies, or the mother or child has a severe medical condition. Perinatal care can include:
Screening tests for congenital disabilities and diagnosis
Care for congenital disabilities, such as congenital heart disease, bladder outlet obstructions and pleural effusion or fluid in the lungs
Post-birth surgeries due to perinatal conditions in newborns
Care for heart defects
Support and guidance for the transition home after the birth
Many reasons exist that a child or mother might need perinatal care during or after birth. Prenatal care can help reduce the risk of complications during childbirth, so it's always best to consult your doctor as soon as you become pregnant.
Benefits of Prenatal Care
Prenatal care helps improve the health of the mother and fetus, increasing the chance of a successful birth and a healthy child. There are many benefits of prenatal care, including the following:
Reducing pregnancy complication risks: Prenatal care can help reduce complications by providing prenatal care guidelines to keep you in good health. Some of these guidelines or instructions include participating in moderate exercise, controlling preexisting conditions, eating a good diet and avoiding using or being around harmful substances, such as drugs and alcohol.
Reducing fetus and infant complications: Using substances during pregnancy can significantly increase the risk of health defects in fetuses and newborns. Substances like tobacco, alcohol and drugs can cause numerous complications, such as physical abnormalities, cardiovascular issues and mental health issues. Prenatal care will help you learn how to stay away from substances while pregnant and monitor the health of your fetus during each trimester.
Ensuring adequate vitamins and nutrients for the mother and child: Prenatal vitamins are essential for the health of the mother and child. During your prenatal visits, a medical professional will be able to give you recommendations on what vitamins to take during your pregnancy to ensure your and your baby's health. Folic acid is a popular ingredient in prenatal vitamins because it can help reduce the risk of various defects by more than 70%.
Ensuring medications are safe during pregnancy: Some medicines aren't safe to take while pregnant and can increase the risks of adverse health effects for the fetus and child. During your prenatal visit, your doctor will ask what medications you're taking and determine which are safe to use while providing alternatives for those that aren't.
Different Types of Prenatal Care
Prenatal care includes more than just a couple of ultrasounds and a few doctor's visits. You'll go through different tests and exams to measure your and your baby's health. Some of the different types of care you can expect during your visits include:
Testing: Your doctor will perform the necessary testing to check your and your baby's health. Some of these include tests for blood, infection, anemia, diabetes and other things that could affect the mother or fetus' health. You'll also receive screening tests to look for possible conditions your baby may have, such as Down syndrome, cystic fibrosis or gestational diabetes.
Checkups: Regular checkups are an essential part of prenatal care. These checkups will monitor your baby's growth and your overall health and well-being. You'll likely have an ultrasound during your checkups, and you may undergo additional testing to check different things, such as your hormone levels.
Activity monitoring: Once you reach a particular stage of your pregnancy, your doctor will monitor your baby's activity, looking for regular movement or irregularities that require your doctor's care. Counting your baby's movement at home and reporting the movement to your doctor can help you assess your baby's activity better. Call your doctor immediately if you don't feel any activity at all once you've reached 28 weeks.
You may undergo additional testing based on age, medical history, test results and ethnic background. Talk with your doctor about the tests you may experience during prenatal visits.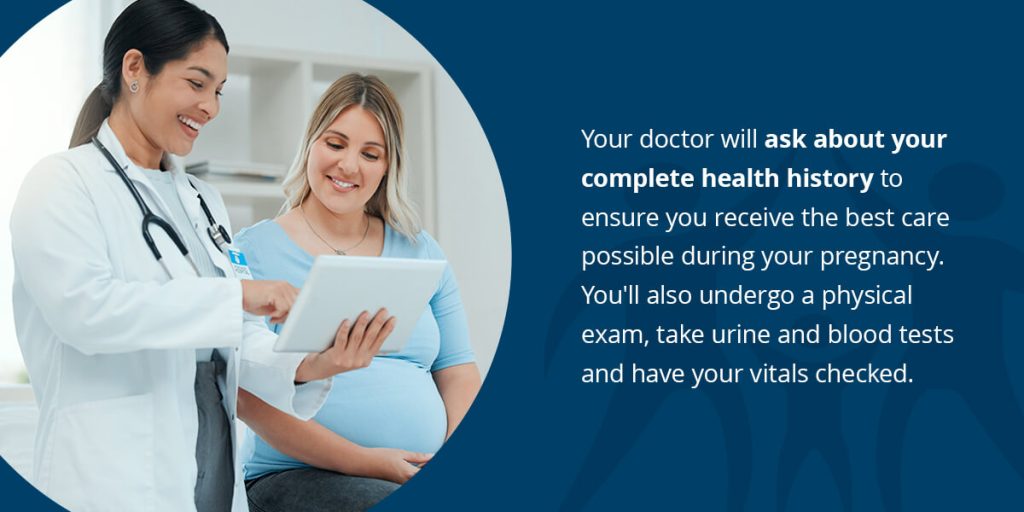 What to Expect at Your Prenatal Care Visit
During your first visit, your doctor will ask about any previous pregnancies, operations or diseases. Your doctor will ask about your complete health history to ensure you receive the best care possible during your pregnancy. You'll also undergo a physical exam, take urine and blood tests and have your vitals checked. You might also receive other tests, such as a cervical exam, mammogram or pap smear.
As your pregnancy develops, you'll go in for additional visits to check your vitals, your baby's growth and your baby's heartbeat and activity. Your doctor will check for potential complications or conditions, such as preeclampsia, anemia or gestational diabetes. The prenatal care timeline for pregnant women looks like this:
Starting prenatal care between eight and 12 weeks of pregnancy
Attending prenatal care appointments every four to six weeks during the first and second trimesters
Checking in with your doctor or midwife every two to three weeks once you reach 28 weeks and until 36 weeks
Going to your doctor or midwife between 36 and 40 weeks for a pelvic exam and weekly visits
After these appointments, you'll give birth and switch from prenatal care to neonatal care.
How to Choose the Right OB-GYN
When looking for an OB-GYN and prenatal care options in PA, you want to ensure that they offer the right services to ensure your and your baby's health throughout your pregnancy. Look for the following prenatal care services from your OB-GYN:
Pregnancy testing
Overall health assessments through the duration of your pregnancy
Delivery assistance
Postpartum care
Breastfeeding counseling
You should choose an OB-GYN that can monitor your and your baby's health effectively throughout your pregnancy, testing for abnormalities and providing preventative care. You can ensure you pick the right OB-GYN by looking for an experienced clinic, doctor or midwife in your area.
You can also check reviews once you've found a few options, looking for the best reviews from other mothers and expecting families. If you have friends or family who recently gave birth, you can always ask them for referrals if they had a good experience with their OB-GYN.
Want to learn more about the importance of visiting an OB/GYN?
Trust Hamilton Health Center as Your OB-GYN
Pregnancy is an exciting time for many women and their families. However, it can also be stressful without the proper guidance. At Hamilton Health Center, we offer prenatal care services to ensure that you and your baby are taken care of during pregnancy. Our team aims to provide you with high-quality care and comprehensive services in one place, reducing the need to visit multiple offices or clinics during your pregnancy.
We provide regular testing and exams through each trimester of your pregnancy and educational resources to help you prepare. We can help you make decisions about your care in confidence. Learn how we can make a difference in your pregnancy care, and contact us today to get started!
More Resources for Women